The Main Hall (17.5m x 6.5m)
The Main Hall is an airy but welcoming space with the original polished wood floor. 100 people can be seated 'theatre style' and 80 can be comfortably seated at tables for a meal. The hall is well lit but is also fitted with dimmable uplighters to create a  more relaxed atmosphere.
The large stage
The large stage well equipped with lighting and sound system, is situated at one end of the hall. It is fitted with heavy 'theatre' style curtains. Both sets of door in the main hall are fitted with this type of curtains and together with drop down blinds at the windows this provides an efficient 'blackout' for stage productions, overhead presentations etc.  A small 'green room' with its own toilet can be accessed from the main hall or the back of the stage.
Entrance
The Kitchen
The kitchen is fully equipped with rage cooker, fridge, freezer, dishwasher, warming cupboard, microwave etc. to allow catering for up to 100 guests. A serving hatch opens directly on to the main hall.The kitchen is also equipped with matching crockery and cutlery to provide complete place settings for a three course meal and coffee for up to ninety guests. Wine glasses and tumblers are also available.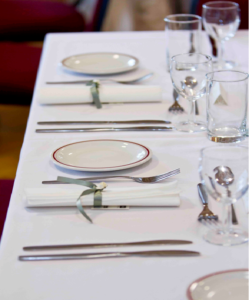 The Robin Howell Room
Is a small room which can be used for meetings of up to ten people. It is also a useful space to lay out a buffet as it has direct access to the kitchen and double door which opens onto the main hall
The Bar
A large well stocked bar opens on to the main Hall. It is fully licensed and has a staff of trained volunteers to provide a bar for functions. Cider, lager and beers are on tap and the Bar Manager is happy to provide any specially requested beverages with at least two weeks' notice. For larger functions barrels of Ale can be provided given two weeks' notice.