The Burtle Silver Band is a friendly and family orientated brass band, whose players are drawn from Burtle and the wider Somerset area.
We are always pleased to hear from players of any age, background and ability who wish to join us.
We are not a contesting band, but prefer to play for the community at events such as fetes, festivals and local concerts.
Band practice takes place every Thursday evening at the Burtle Village Hall -  7.45 p.m. to 9.30 p.m.You might also like to see the band website http://www.burtlesilverband.co.uk
Whats On
Thursday 27th April - Open Rehearsal - residents of Burtle and surrounding villages invited 7.45 - 9.30 pm
Saturday 6th May - concert in aid of Butleigh Defibrillator at West Pennard Hall evening
Sunday 14th May - Vivary Park bandstand, Taunton, 3.00 4.30 pm
Sunday 21st May - Lyme Regis sea front - coach to leave Burtle and pick up at Puriton - times to be confirmed
Saturday 3rd June - Glastonbury Holiday Homes, Northload Street, Glastonbury 2 - 4.30 pm
Saturday 17th June - Pawlett Legion 70th Anniversary Fete, 1.30 - 2.30 pm & 3.00 -4.00 pm
Sunday 2nd July - Blenheim Gardens bandstand, Minehead, time TBC
Friday 14th July - Concert at St John's Church, Glastonbury, 7.30 - 9.00 pm
Saturday 22nd July - Langport Tractor Rally, 11.00 am - 12 noon & 1.00 - 2.00 pm
Sunday 30th July - Blake Gardens bandstand Bridgwater, 2 - 2.45 pm & 3.15 - 4.00pm
Friday 25th August - East Brent Harvest Home
Monday 28th August - Wembdon Village Day, 1.45pm & 3.00 pm
Sunday 3rd September - Grove Park bandstand, Weston Super Mare, 2 - 2.45 pm & 3.15 - 4.00 pm
Saturday 9th September - Ashcott Harvest Fair, 2 - 2.45 pm & 3.15  4.00 pm
Sunday 1st October - Watchet Street Fair, times TBC
Friday 20th October - Sing Sankey, Westfield United Reformed Church, Bridgwater times TBC
Sunday 12th November - Stawell Church Remembrance Service, 3pm
News
The newly elected band Chairman, Pete Callaghan, suggested that the band should nominate a charity to support with the money collected during their concerts. Following a vote, the Air Ambulance was chosen as the nominated charity for 2015. We have a wide and varied calendar of engagements this year, the highlight of which has just got to be the Glastonbury Festival. We are absolutely delighted to have been invited to perform at this world famous festival and we will be playing on the pyramid stage at 11.00 am on Sunday 28th June. If you're at the Festival why not come along and listen to us - we'd be delighted to see you!"Burtle Silver Band Open Rehearsal
Burtle Silver Band are giving an Open Rehearsal on Thursday 27th April in Burtle Village Hall - 7.45pm start.  Polden Post readers are warmly invited.  We practise until 9.30pm and you would be welcome to spend as little or as much time as you wish listening to the band as we prepare for the forthcoming summer season.  Afterwards we will be serving tea and biscuits and there will be time to meet band members, find out more about the band and even to have a go on an instrument.  There's no charge - we'd just be delighted to have you there.
For one of our engagements, Burtle Silver Band will be playing on the sea front in Lyme Regis on Sunday 21st May.  We are likely to have some seats available in our coach which leaves from Burtle in the morning, making an easy and low cost day out.  If you would like to know more about how to book a seat, please contact our Secretary, on 01934 712082
Presentation to Air Ambulance
The Burtle Silver Band again adopted the Dorset and Somerset Air Ambulance as their chosen charity for 2016. The main focus for the fundraising was the ever popular joint concert with the Edington Village Voices Choir, lead by Roz Dolding and Bridgwater's Westfield Church Sing Sankey.  The money raised at these events was supplemented by collections made throughout the summer when the band played on bandstands and at fetes throughout the county and beyond.
On Thursday 9th March Michael Eavis, the band's President, and Sandra Healey, the band's Chairperson presented Colin Thomas and Anita Townsend from the Dorset and Somerset Air Ambulance with a cheque for £900.  The operational costs of the Dorset and Somerset Air Ambulance are over £2 million per year with each mission costing approximately £2,500.  With public support, such as the fundraising carried out by the Burtle Band, Village Voices Choir and Westfield Church's Sing Sankey, The Dorset and Somerset Air Ambulance can continue to help save lives across the two counties.
Contact
For all enquiries please contact the Band Secretary Alan Buchanan on telephone number 01934 712082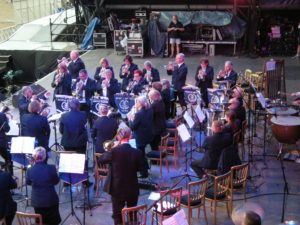 Pyramid Stage at the 2015 Glastonbury Festival